ECOlux Mattress is a Malaysian-established company officially established in 2018. They offer a variety of mattresses in homestay, hotel, and premium hotel grades. ECOlux also markets divan beds, sofas, and some additional furniture. They provide free delivery to your doorstep and professional customer service.
After perusing prices, we found out that their mattresses range from a reasonable RM759 for a Single to RM999 for a King. I find their prices fairly affordable for their quality. ECOlux is a good choice for budget-savvy mattress shoppers. The Belva 8"-inch ECOfoam mattress, the Fern 10"-inch Bonnel Spring Hexicoil mattress, the Moss 10"-inch Bonnel Spring Hexicoil mattress, and the Rona 10"-inch Bonnel Spring Hexicoil mattress are their most popular mattresses.
ECOlux mattresses are built with average quality. The most budget-friendly option, the Belva 8"-inch ECOfoam mattress, is made of high density recycled foam. Similar to memory foam, high-density foam hugs your body while you sleep. It keeps its original shape after you get up. In my experience foam helps to relieve pressure points while sleeping. However, lower quality foam mattresses have been known to release toxic odours.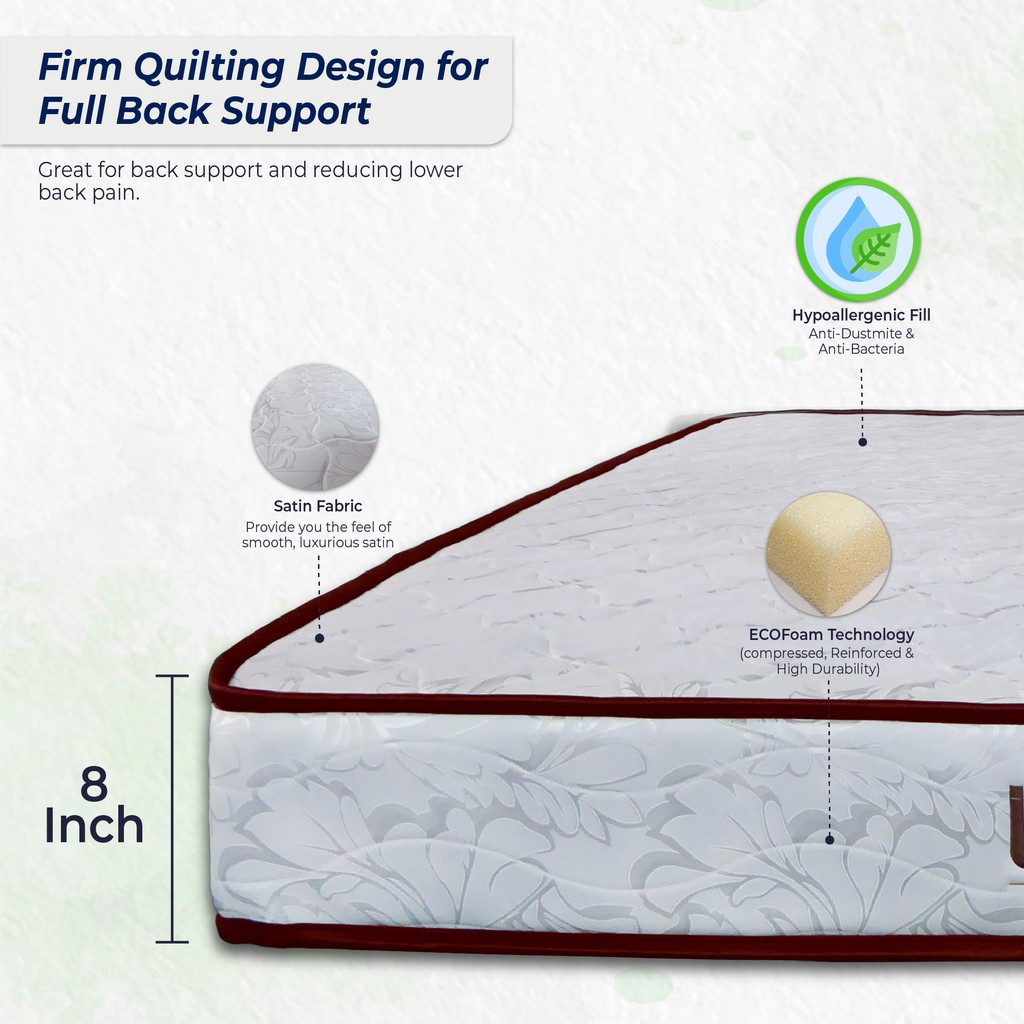 Experience
ECOlux mattresses use Bonnel springs. In case you don't know, Bonnel springs are the most traditional type of inner mattress spring. They are shaped like an hourglass and interconnect to form a supportive spring system. This creates a sturdy mattress but springs can become uncomfortable over time. Spring mattresses are known to sag after a few years. While ECOlux mattresses would be comfortable at first, I am not very confident in how long they would be able to retain their comfortability.  
ECOlux mattresses offer comfort and stability. However, by relying on 100% construction of either Bonnel springs or ECOfoam they fall short in the value category. Bonnel spring mattresses tend to aggravate pressure points and may not feel comfortable in the long run. Foam mattresses sag after a few years, meaning they need to be replaced more often. ECOlux does not offer a free trial and all mattresses come with only a 10-year warranty. While they offer free local delivery they will not dispose of your old mattress.
Origin Mattress
Origin Mattress was founded in 2018 in Germany. In under 3 years, they have opened stores in the United States of America, Singapore, Australia, Malaysia, Hong Kong, Taiwan, and the United Kingdom. Origin builds mattresses one at a time in their factories and sells them exclusively in Origin stores. I was impressed that they can offer consistently affordable prices while maintaining high-quality standards. Besides mattresses, they sell mattress toppers, mattress protectors, pillows, and bolsters.
I found Origin prices quite reasonable starting at RM 1,225 for a classic Hybrid Single mattress. While this price is higher it will get you additional exclusive features like mattress handles and a natural wool layer. Origin mattresses strike a balance between affordability and superior comfort.
Origin mattresses utilize top quality materials to build durable mattresses. Unlike generic Bonnel spring mattresses, which last on average 5.5-6.5 years before starting to sag, Origin's Micro Precision Springs last up to 10 years. Compared to traditional 100% memory foam mattresses, mattresses with Micro Precision spring support offer more support without sinking and sagging.  Origin mattresses are made without toxic chemicals and unlike lower quality foam mattresses will not harm air quality—an important and often overlooked factor in choosing a mattress. Because of Origin tests for durability, I give their quality an easy.
They offer 6 layers of comfort:
Original Airflow Tencel
Natural Latex Layer
Original Cooling Gel Ventilated Memory Foam
Innovative Edge Support System
Original Reflex Support Layer
Micro Precision Springs
Experience
I am very impressed to find all these features are combined in one mattress. The unique natural latex layer available in the Hybrid model conforms to the body in a way I find to be more supportive. Combining the natural springiness of latex with memory foam creates a comfortable soft sinking feeling that goes hand in hand with a heavenly supportive floating sensation. German engineered Micro Precision springs provide targeted support for your shoulders, hips and lower back. Micro Precision springs are more responsive to the natural movement of your body than generic Bonnel springs. I love the added edge support that prevents the mattress from slipping off the edge of the bed.
Natural latex promotes air circulation to ensure a cooler mattress and a cooler night's sleep. Latex stays dry no matter the occasional night sweats. Origin memory foam is infused with a cooling gel that disperses heat. Constant airflow through the mattress keeps temperatures even cooler and comfier on hot summer nights. 
Compared to other mattresses in a similar price range, Origin ranks top in terms of comfort, value, affordability, and convenience. Unlike traditional mattresses of the same price, they are also suitable for medical problems such as spine compression and backaches.
Extra Perks
Origin Mattress offers free nationwide delivery anywhere in Malaysia. They also offer free returns, a 15-year warranty, and a risk-free 120-day trial. Origin makes it extremely convenient to order a mattress online and test it without worrying about a deadline to send it back. If you don't find your Origin mattress to be a good fit, they will pick it up for free at your home and give you a full refund. They also offer old mattress disposal for a flat fee of RM350.00!
We have come to the end of the article! The final choice is yours to make as both brands do quite well in their own areas. If you enjoyed this article, do check out our other articles on Mattresses, Pillows, and Mattress Topper.