*Disclaimer: Origin Mattress had asked our in-house testers to produce an unbiased review on this mattress*
A mattress is an indispensable household item. It tops the list of things one must buy when one is moving from one place to another.
I remember my ordeal when I had to relocate to my current apartment. I had spent a few years on a mattress that was barely carrying my weight, and backache was becoming a constant companion. Getting a good mattress was beyond the aesthetics. I didn't care if it looked good or not, I just wanted something that would give my back and waist the appropriate support.
I wanted to sleep like I was on a cloud, literally.
So I began in-depth research on different types of mattresses and what made them stand out. It was an eye-opening experience for me, and I learned what I had been doing wrong and why I had never gotten the best mattress brand all the while.
I discovered the Seahorse mattress collection and decided to give it a try. I had a couple of options to choose from, so I went for the most expensive because I was sure it would give me the best value for my money, but I was wrong.
Seahorse Mattress Collection
The Sea Horse brand has been around for a while. It was established in the mid-'80s in Hong Kong, and the brand is known primarily for its household products. The mattress was added to the brand's product line in 1987.
The Seahorse collection claims their mattress range guarantees optimal comfort and a long life span. In my quest for a mattress that would help me finally enjoy my nights and bid my backache farewell, I decided to give the Seahorse Sea All mattress a try.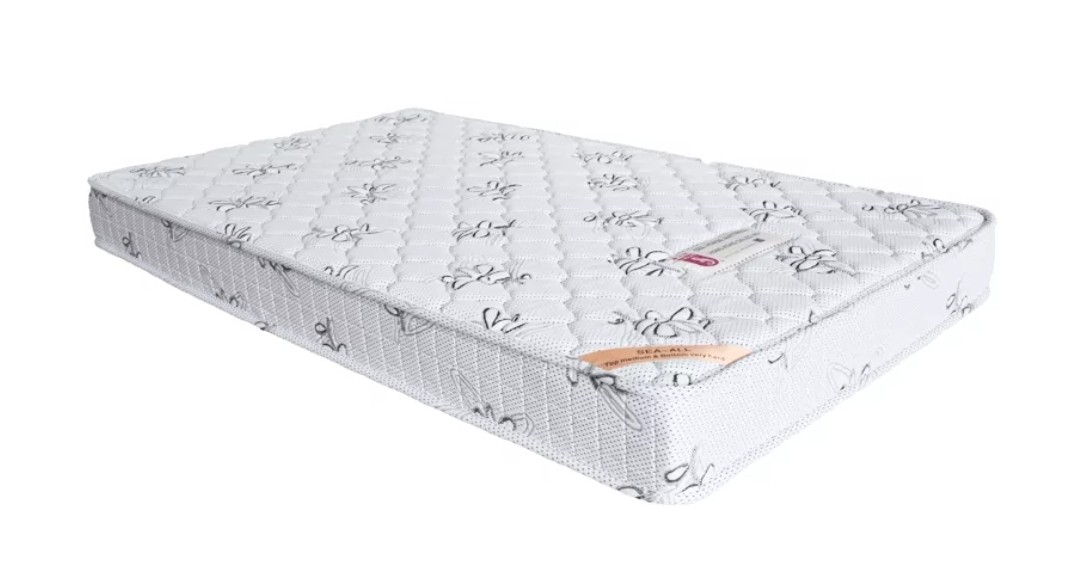 Price
My first attempt was to get the priciest of the Seahorse mattresses because I had internalized that the more expensive the brand, the more value I would get. As such, I purchased the Seahorse Sea All Mattress, which cost me RM1,224.30. I hoped it would alleviate my back aches troubles and significantly improve the quality of my sleep.
The high-density foam was like a brick to my back, although it did support the arch in my lower back. I decided to switch to the soft side of the mattress, and I found myself sinking without getting the support I had hoped I would get.
Comfort Level
Hot sweltering nights are no fun, thus having a mattress with cooling technology is a prerequisite for a good night's sleep.
My first few nights in the Seahorse mattress were pretty comfortable. I spent most of my nights sleeping like a baby. However, I did notice that I seemed to experience a bit of night sweat. It felt like the foam absorbed the heat in my room and released it into my body. Seahorse claims that the material used is high-end and anti-mite, but the texture of the material was very uncomfortable against my skin.
Value
With over a thousand ringgit, you can expect to get something better in the mattress market. Which may provide better support and better quality material.
What I would say got me excited about the Sea All Mattress is its double sides, one is hard and the other soft. I was excited about the idea of flipping one side to the other, depending on my daily preference. It seemed like getting a 2-in-1 deal, this seemed to seal the deal for me!
Quality
For the quality, I was impressed. The hard foam was not too hard, the soft foam offered the amount of support I expected. The overall quality felt quite sturdy!
It also offered support for my joints and did help in alleviating my backache. The quality was good, but it could be further improved.
A Good Alternative that might Blow Your Mind Away
When searching for mattresses do approach the market with a lot of skepticism, this is to ensure that you do not buy the wrong brand. We will now talk about a good alternative to the SEA ALL mattress by Seahorse Mattress.
The Origin mattress was designed for people who appreciate the best kind of mattress. People who want to have a good night's sleep without any discomfort and body aches. Veteran designers and sleep experts came together to create a masterpiece that has an all-natural latex layer that molds perfectly to your body while you sleep. What this means in layman's terms is that now you can say bye-bye to backaches and joint pain.
These are some of the values that appealed to me the most:
Price
Now I know better, pricey does not always mean high quality. I decided to look more into what each mattress offers me, rather than how much it costs. To my surprise, the Origin mattress costs way less than the Seahorse mattress and the value gap is huge. Origin offered more value for less money, even though the design, the fabric, the body support, is better, etc.
Quality
What I found intriguing about the Origin Hybrid brand is how in sync it is with 21st-century technology and most importantly the unique needs of people today. With the never-ending hustle and bustle of the 21st century, many more people are complaining about not enjoying a great night's rest, mainly because there's not enough time to sleep 6-8 hours every day and their mattresses are old and have poor weight support.
The Origin brand is very customer-centric, thus they take out time to research our sleeping needs and constantly improve the quality of their mattresses. Being in an age when the world is constantly trying to find a solution to global warming, it is appealing to find a brand that prioritizes using sustainable materials for its products. What's more, the materials are also OEKO-TEX® certified. This means the materials are made from substances that will not harm you.
Comfort Level
The comfort level of the Origin mattress is good. I felt enveloped by the soft feel of the mattress on my skin and I was surprised that it did not sink with my weight. I had zero skin reactions and my back started to thank me just a week after sleeping on it. This was an excellent buy, and I would recommend the product a million times over.
The comfort I got from using the Origin hybrid mattress validated for me the brand's claim of hiring sleep experts, and in-house specialists to create something that will suit everyone perfectly. It lives true to its motto, which is to create the best sleep products and deliver better.
Value
The Origin mattress costs less than a thousand dollars for the King size, and I can get the single size bed for just $400. The Seahorse Sea All Mattress costs a whopping over a thousand dollars, unfortunately, the value is still less than the Origin variant.
Also, Origin offers premium customer service and their delivery is swift. In just two days or less, your mattress would be delivered to your doorstep.
The Origin Mattress is worth every dollar and more.
Conclusion
I believe we are all one research away from making a poor buying decision. Quality sleep is sacrosanct, and nothing should come between you and a good night's rest. Therefore, do away with your bias, and make objective research into the best mattress for your health.
The better the quality of sleep you get, the stronger and healthier you become.
I found the Seahorse Sea All Mattress to be greater for people who appreciated aesthetics.
 It did not meet my expectations with regards to body support and durability, also, the customer service I received was subpar. I believe when you charge for luxury, you should deliver luxury. The Seahorse mattress did not really ease my back pain, but I did enjoy a good night's rest with it.
Origin Hybrid Mattress on the other hand surpassed all my expectations. From the quality customer service to the swift delivery, the unrivalled quality of material, top-notch production standard, commitment to the use of sustainable materials, the amazing high-density weight support, and last but not the least, the guarantee of dreamy night rest.
What's more, when you buy the Origin mattress, you get a 15-year warranty and even a 120-day trial, and if you find yourself dissatisfied with the product, you can return it at no cost to you. The confidence of the Origin brand in their products is why you get amazing benefits like this. There has never been a customer who sent the mattress back.
Your money was earned through hard work, you should only spend it on valuable items. So the choice is yours! Do sufficient research before purchasing a mattress!